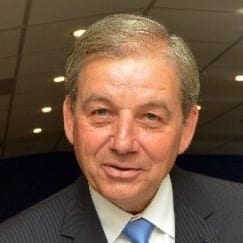 Honorary Inspector General of Finance
Honorary Inspector General of Finance, retired since May 2020, was from July 2009 to January 2019, in addition to his duties as Inspector General, Vice-President of the Economic Committee for Health Products (CEPS) for medical devices and services. He was rapporteur from November 1994 to June 2009 of the Economic Committee for Medicines and then of the CEPS for medicines, services and clinical nutrition.
Previously, he was Director General of the National Agency for the Integration and Promotion of Overseas Workers – ANT now LADOM – (2006 – 2009); Deputy Senior Defense Officer at the Ministry of Economy, Finance and Industry (2001 – 2006); Head of the Transport and Communication Office of the General Directorate for Competition, Consumer Affairs and Fraud Control – DGCCRF – (1995 – 2000); Special advisor with the DGCCRF for the opening up of state-held monopolies (1994 – 1997); At the General Inspectorate of Finance (1990 – 1994), he was, in particular, co-rapporteur for the evaluation of public policies in favor of troubled adolescents (1992 – 1993).
Before joining the General Inspectorate of Finance through the external entry program, some of his main accomplishments of his career, which began in the Administration in November 1972, are his functions in the Office of the financial market at the Treasury Department (1996 -1990) during which he was the negotiator of the directives of the European Communities concerning the stock market sector (1987 – 1990) and his functions as Rapporteur to the Inter-ministerial Committee for Industrial Restructuring – CIRI – (1980 – 1986).
He has been active in several associations, in particular in the Federation of  Student Parents in Public Education – PEEP – (1982 – 2008), and has been Vice-President of the Federation (2001 – 2003) and President of its Union of Academy of Versailles (1997 – 2003). He was also President of the Maison des Associations d'Issy les Moulineaux (1993 – 1999).
He has been Municipal Councilor of Issy-les Moulineaux (Hauts de Seine) since October 2011.
He was made Knight of the National Order of Merit and is an Officer of the Academic Palms.