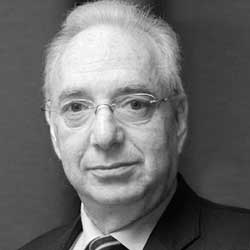 Hospital Doctor and university Teacher
Prof. Jean-Jacques ZAMBROWSKI was a hospital physician at Bichat Hospital (AP-HP in Paris) until March 2019. Originally a cardiologist, he has been an internal medicine specialist since 1998.
He has been an Associate Professor at Paris Descartes University since 1992 before being appointed Director of Education at Paris Saclay University in 2002.
His teaching and research work covers health policy and economics, disciplines in which he was trained in France and then in the United States (Wharton School of the University of Pennsylvania). He is also an Associate Professor at Pierre and Marie Curie University / Sorbonne University.
He is considered an expert in the introduction of innovation in health, whether regarding health products, medicines, medical devices, or the organization of health care: financing of health care, health care pathways, digital health, etc.
Prof. Jean-Jacques ZAMBROWSKI advises French and European government bodies, as well as various institutional stakeholders and companies in the health sector, industries (LEEM, SNITEM, etc.) and professional bodies (medical and pharmaceutical orders and organisations).
He is also a consultant to French and foreign financial institutions on subjects relating to health economics and health-related industries and service providers.
Prof. Jean-Jacques ZAMBROWSKI is the author of many books, publications and communications on health policy and economics, in particular , financing, access to innovation, etc.
Deeply involved in digital health, he is Delegate General of the French Society of Telemedicine. He is also a member of the French Society of Cardiology, the French Society of Internal Medicine, the French Society of Aerospace Medicine, the French and Francophone Society of Medical Ethics as well as the International Society For Pharmacoeconomics and Outcomes Research and the Health Technology Assessment International Conference.
J.-J. ZAMBROWSKI is an Officer of the Légion d'Honneur and a Knight of the Ordre National du Mérite.