The Nextep team is growing !!!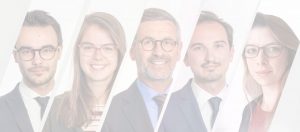 We are pleased to welcome five new employees:
Vincent Cheney, former member of our Advisory Board, joins us as Senior Business Partner in charge of International Development. After working for 15 years at Procter & Gamble in the Consumer Goods Division, he joined the Pharmaceuticals Division in 1996. marketing operations in France and Belgium. In 2003, he became President – France, Belgium and Luxembourg at Procter & Gamble Pharmaceuticals. His international career has led him to direct the French, English, German, Belgian and Dutch subsidiaries of several international laboratories (P & G, Warner Chilcott, Allergan …).
In May 2013, he was appointed Vice President of the Allergan Neurosciences division in London to oversee business operations in the Europe Middle East Africa region.
He has been a member of the board of several professional associations including LEEM and AGIPHARM.
He holds a master's degree in Maketing from EDHEC and an Executive Master specializing in change management from HEC.
Thibault Motté, who joins Public Affairs as a Senior Consultant
Thibault arrives after 2 ½ years at Forward Partners, a consulting firm in strategy and influence. In particular, he has been involved in advising clients in the industry sector.
Prior to this, he did internships and apprenticeships at Ipsen Pharma, and was also a parliamentary collaborator for F. Grossetête for a few months.
A lawyer by training, Thibault holds two Master's degrees from Paris II-Panthéon Assas University, one in public life and institutional relations and the other in sociology of law and legal communication.
Inès De Lalande, who joins Public Affairs as a confirmed Consultant
A graduate of the Catholic Institute of Paris and King's College London in European Public Affairs, Inès began her career as a consultant in Brussels at the international firm Interel, in the health and digital sectors.
She has advised and supported various structures (multinationals, alliances and business federations) mainly European and American on various European regulations and issues.
Benjamin Mazaleyrat, who joins the Economic Affairs business as a trainee until September
Benjamin is a student in pharmacy at the University Paris XI-Paris-Saclay.
Before joining Nextep, he completed an externship at Henri Ey psychiatric hospital in Paris. Before that, he did an internship in marketing and digital communication at Céva Animal Health in Libourne.
Lucile Lecomte, who joins Public Affairs as a trainee until September
Master student 1, Lucile LECOMTE has a double degree between Sciences Po Lille and Audencia Business School in Public Policy Management.
After an experience in CESER Pays de la Loire and Junior Enterprise, she developed an appetite for the health sector in which she wants to evolve.